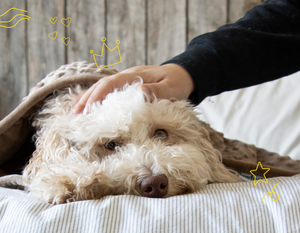 Inspired by pets, designed by us.
At Nappy Puppy, we are passionate about dogs and providing the best comfort for them. Our mission is to introduce the best everyday weighted blanket to enhance your doggie's sleeping experience.
This almost always means more work, better material, lots of brainstorming, trial and error… After lots of research, development, design and countless prototypes, we believe we have come up with the finest weighted blanket for dogs on the market.


We are helping rescue dogs.
Because every dog deserves a little extra comfort, a portion of all sales goes to help rescue dogs. Approximately 6.5 million companion animals enter U.S. animal shelters nationwide every year. We donate a percentage our profits and free blankets to various shelters throughout the country. 
With every purchase, you aren't just helping your dog, you're helping countless dogs continue to live a happy and healthy life!